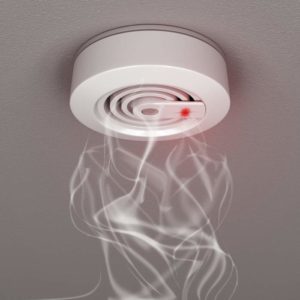 It is impossible to call your home safe without a properly installed and working smoke detector. A smoke detector is the first line of defense in the event of a fire. It is critical to buy a high-quality smoke detector that will detect a blaze as early as possible. Smoke alarms that detect fires promptly make it easier for the occupants of a home to get out safely.
When you consider the important role that a smoke detector plays in the safety of you and your family, it's easy to see why this purchase shouldn't be made in haste. Learn about the key features to look for in a smoke detector below.
Types of Sensors – There are two main types of sensors that are used in modern smoke detectors: ionization sensors and photoelectric sensors. Some smoke detectors include both types of sensors, and they are the best ones out there. Others include one type of sensor or the other. In that case, you should buy one of each.
Photoelectric Sensors – These sensors are best able to detect smoky fires. Smoldering fires that produce a lot of smoke but very few flames are most likely to occur in places like bedrooms, where bedding is often piled high. Many blazes start out with very few flames and a lot of smoke, so this type of sensor is essential.
Ionization Sensors – These sensors are best able to detect fires that have a lot of flames. Fires with high flames are usually accelerated by things like paper and chemicals. They most typically occur in places like kitchens, where hot pans come into contact with oils and other accelerants. Top-quality ionization sensors can detect high, hot flames from a considerable distance, so you need to have at least a few smoke detectors that include them in your home.
Removable unit covers – It's important to keep your smoke detector clean and free of dust. When dust accumulates too much, the sensors within a smoke detector can become impaired. Look for a smoke detector that has a hinged or easy-to-remove cover. That way, you'll have an easier time cleaning it from time to time. Experts agree that smoke detectors should be cleaned about once a month.
Test Buttons – The best smoke detectors have buttons that allow you to test whether or not they are functioning properly. Of course, testing many models often involves getting a chair in order to reach the smoke detector. To avoid that, look for smoke detectors that can be tested through TV remotes. Models like those are out there, and they are worth the extra expense.
UL Ratings – Never buy a smoke detector that has not met the safety standards of the Underwriters Laboratory or UL. Incredibly, there are smoke detectors on the market today that have not been approved by the UL. UL ratings are extremely important. They should be prominently listed on a smoke detector's packaging, and information about UL ratings should be included in a smoke detector's manual as well.
Silence Buttons – From time to time, extra smoke in the kitchen and other things may trigger a false alarm. This can happen even with the very best smoke detectors. Look for a model that includes an easy way to disable those false alarms. Otherwise, you may end up disabling it entirely and forget to reset it. Your home won't be protected, and your smoke detector will be useless.
Reviews about individual smoke detectors are readily available online, so make sure to check them out before you commit yourself to a particular model. With these points in mind, you should be able to find a top-quality smoke detector that will keep you and your family as safe as can be. Click Here For The Top 5 Best Smoke Detector Models.

https://en.wikipedia.org/wiki/Fire_safety
https://en.wikipedia.org/wiki/Smoke_detector