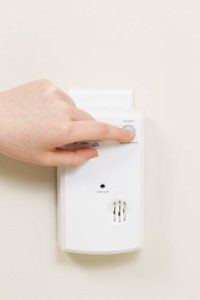 When you consider the total number of people that actually die every year from carbon monoxide poisoning, the lax attitude of many homeowners regarding carbon monoxide alarms is almost understandable. After all When compared to the thousands that perish, or are injured in residential fires every year, a few hundred deaths from carbon monoxide poisoning must seem almost trivial.
The reality is that there is no such thing as trivial when a human life is concerned, and a couple hundred deaths a year is a tragedy that is compounded by the fact that they could have been prevented if the homes had a working carbon monoxide alarm installed.
We spend millions of dollars on home security products, smoke detectors, even fire extinguishers, in an attempt to protect ourselves against perceived threats. It is not because we realistically expect disaster to strike at any minute, but rather we are simply acknowledging that these dangers do exist, and being prepared should the unthinkable ever happen is the intelligent thing to do.
What about the threat posed by carbon monoxide poisoning? What preparations have you made to protect your family should the unthinkable ever occur. If your plans do not include a carbon monoxide alarm, you are putting your life, and that of your family at risk.
Shopping for a carbon monoxide alarm – How much you spend on your new carbon monoxide alarm will depend upon the model, manufacture, and the options chosen. Whatever you decide to purchase, make sure it comes with the following features.
Look for models with Underwriters Laboratories certification – Once you get past all the manufacture's sales hype, a carbon monoxide detector has to be judged on its accuracy, sensitivity and reliability. It would be great if we could rely solely on the manufacturers test results, and specs, but when your life, and that of your family is at stake, you should demand unbiased independent testing of the product in question.
Current industry standards dictate that a CO alarm should be able to reliably detect, and sound an alert should carbon monoxide levels ever reach 150 ppm for ten minutes, or 70 ppm for one hour. The device also has to be able to sound a second alert within six minutes of the reset button being pressed, if a dangerous situation still exists.
Underwriter's laboratories is the independent testing organization that certifies that the device you are considering purchasing can meet these strict standards. You could take the device manufactures word for it, or be smart and look for the UL certification.
Ac power with battery backup – Make sure that the Carbon monoxide alarm you buy uses household AC as its primary source of power, and a internal battery as a backup should there ever be an interruption in power. It is a mistake to trust your life to a device that relies solely on a single power source.
During power outages, we tend to rely on our fireplaces, portable electrical generators, and gas-powered space heaters, for our basic creature comforts. All of these things are well known sources of carbon monoxide poisoning. Without an alternate power source for your CO alarm during an interruption in power, you may find yourself without protection at a time when you may need it the most.
Co detectors that can talk not just make noise – Carbon monoxide poisoning is at its most dangerous when the occupants of the home are sleeping. If there is ever a problem in your home, you need to know with absolute certainty that your carbon monoxide alarm is capable of alerting the sleeping members of your household.
Devices that utilize recorded human voices have been proven to be more effective at waking sleeping test subjects, especially children. Different manufacturers have their own name for this technology. The Kidde brand, for example, calls it Voice Alert, but the name is unimportant, what it does is all that matters…help save lives.
Another benefit of the talking alarm, is that it eliminates any confusion as to the cause of the alert, and the danger involved. We are being overrun by devices that come with all sorts of alarm functions. The voice alert feature ensures that you know immediately that it is your CO detector that is sounding, and not some other device in your home.
The importance of digital readout displays – The Carbon monoxide level in normal everyday air is well under 3ppm, unfortunately most detectors will not alert you until the levels hit 70ppm for a full hour, or 150ppm for ten minutes. Having a digital display allows you to see a potential threat long before your CO alarm would have alerted you to it.
The 70-150ppm threshold was set as an acceptable level for healthy adults, but if have very young children, or any member of your household suffers from health issues such as a heart condition, or respiratory illness, extended exposure to levels as low as 30ppm could be dangerous. Having this early warning could be a lifesaver.
Another benefit of having a digital display is the ability to confirm false alerts. How do you know when your device is malfunctioning, or if the alarms are legitimate, and you need to get out of the house? Without a digital readout, there is very little else for you to base your response on.
Units with a digital readout will give you a much more accurate understanding of what the situation is currently, and what your response needs to be.
Peak level readouts -The standard advice given to those exposed to high levels of carbon monoxide is to get out of the house as quickly as possible, and to leave the door open on the way out. The question becomes how do the responding emergency service providers accurately gauge the level and extent of your exposure, and therefore, the treatment required.
Knowing the ppm of carbon monoxide that you were exposed to could mean the difference between an oxygen mask being administered by a paramedic vs a frantic trip to the emergency-room for treatment in a hyperbaric chamber.
Having a carbon monoxide detector that can record and display the highest levels you were exposed to will make a huge difference in determining the appropriate response and treatment by the emergency responders.
The technology – Biomimetic, Electrochemical and Metal oxide semiconductor. The three most commonly used sensors in carbon monoxide alarms today.
Biomimetic sensors use a compound that mimics the hemoglobin that is found in our blood. When carbon monoxide attaches to this synthetic hemoglobin it causes a color change that varies according to the levels present in the atmosphere. It is this color change that in turn gets analyzed by a secondary sensor, that will eventually trigger an alarm should levels in the air exceed the predetermined safe amount.
Metal oxide semiconductor sensors measure the electrical resistance that occurs between two circuits in normal air. Carbon monoxide when introduced into a monitored environment will lower this electrical resistance. It is this slight but measurable change that is used to signal an alarm. These are the types of sensors have been around for a while, and you will find them in many low to mid priced devices manufactured by First Alert and Kidde.
Electrochemical sensors use a few of the same principles as metal oxide semiconductor sensors in that they both measure the flow of electricity. Electrochemical sensors however operate by utilizing a chemical reaction that is based on carbon monoxide in order to produce electricity. The more carbon monoxide present the more electricity is produced.
It is this change in current that allows these devices to measure the amount of carbon monoxide in the atmosphere. Detectors that feature this technology tend to be the some of the most accurate on the market; the downside is that they also tend to have a shorter lifespan when compared to devices using the metal oxide semiconductor sensor technology.
As a general rule of thumb there should be at least one detector on every habitable level of your home. There should also be one within 15 feet of every bedroom, and in the area that connects your home to the garage.
The unit itself should be mounted in such a way that level of CO it is sampling is representative of the actual levels of the gas within the room. Since carbon monoxide is only slightly less dense than air, they can in theory be placed anywhere in a room.
Knowing all the dangers, and potential causes of CO poisoning is not enough. You need to take the next step and find an effective means of protecting yourself. This requires the purchase, and proper installation of a carbon monoxide alarm. Click Here For The Top 5 Best Carbon Monoxide Alarm Models.

https://en.wikipedia.org/wiki/Fire_safety
https://en.wikipedia.org/wiki/Carbon_monoxide_detector