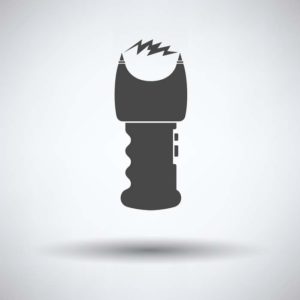 Stun guns are often featured on television shows like "COPS," but they can be purchased and used by civilians as well. While many people use the terms "stun gun" and "Taser" interchangeably, the fact is that the term stun gun is a generic one while "Taser" refers to conducive energy devices that are manufactured by Taser International. When most people think of stun guns, they are actually thinking of Taser electroshock weapons. Tasers shoot electrodes that are attached by long, thin, flexible wires. Stun guns in general come in many different forms.
How They Work – For the purposes of this article, the focus will be on Tasers. Unlike electric shock prods, which are descendants of cattle prods, there is no need to make direct contact with a person in order to use a Taser weapon on them. The Taser should be aimed at the intended target, and the trigger should be pressed.
At that point, the projectile, which is actually an electrode, becomes embedded in the target's skin. A temporary, high-voltage electrical discharge is then emitted by the electrode. Its low current is specifically designed to keep it non-lethal, and modern stun guns automatically stop emitting charges after five seconds.
Effectiveness of stun guns – The high-voltage electrical charge that is emitted by a Taser stun gun immediately immobilizes most recipients. The charge overrides the body's muscle-triggering mechanisms. Although the recipient feels pain, it is typically temporary. The charge also temporarily paralyzes the individual while the current is being applied so that they are no longer a threat.
In most cases, the charge only needs to be applied for about half a second. If the trigger is held down, the charge will continue to be applied for up to five seconds. Tasers and stun guns are most effective when they are directed at the upper hip, the upper shoulder or below the ribs.
The legality of stun guns – Tasers and stun guns are legal to own in most states. In Indiana, you must have a handgun license in order to use and carry a stun gun. In Illinois, you need to have a valid FOID or Firearm Owners Identification card in order to carry and use one. Similarly, Wisconsin residents need to have valid CCW permits in order to use stun guns. In Connecticut, you are allowed to keep a stun gun in the home, but you are not allowed to carry one. Restrictions also apply in Hawaii.
The right non-lethal weapon can dramatically enhance your safety and make it easier to engage in effective self-defense. To make the right choice, you should do plenty of research about the available options. Depending on the laws of your state, you may not have a whole lot of options.
After purchasing a non-lethal self-defense product, make sure that you learn how to use it properly. It is well worth it to take a course that provides instruction about using these types of weapons effectively. You are sure to feel much safer when you have a non-lethal self-defense product on hand. Click Here For The Top 5 Best Stun Gun Models.

https://en.wikipedia.org/wiki/Taser
https://en.wikipedia.org/wiki/Self-defense