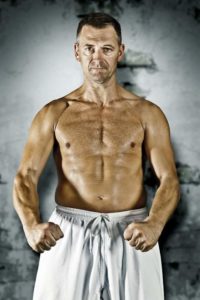 How does Krav Maga differ from most other forms of self-defense? Most other systems have rules of conduct their practitioner must follow. Anyone who has ever boxed, knows that you cannot hit below the belt, and eye gouges are out of the question. This is OK, because in a boxing match, you are not fighting for your life. However, in the real world, criminals have only one rule…there are none.
If you are going to survive an attack from someone with this mentality, the self-defense method, you choose had better follow the same rules as your attacker. I believe that Krav Maga will provide you with the tools that you will need to survive.
The creation of Krav Maga – The development of Krav Maga began in the 1930s in Bratislava Czechoslovakia. During this period in Bratislava, Imre Lichtenfeld a trained wrestler and boxer, began teaching his fighting techniques to the Jewish community to help them protect themselves against rampant anti-Semitic violence.
After moving to what was at the time Palestine, but is now the nation of Israel, he began to teach his fighting system to the Jewish underground army.
In 1948, the State of Israel was established and Imre Lichtenfeld began teaching in the combat fitness school of the Israel Defense Force. He was assigned the role of Chief Instructor of training and Physical Fitness. Over a period of fifteen years, he served with the Israel Defense Force developing and refining his method of hand to hand combat.
In 1964 although he was leaving the military, he continued with the supervision and refinement of this fighting system, and worked with both law enforcement and the military in implementing it. He also spent time adapting his fighting techniques to suit the needs of civilians. In January 1998, Imre Lichtenfeld died in Netanya Israel at the age of 88.
How it spread to America – In 1981, six instructors traveled from Israel to the United States of America to demonstrate to some Jewish Community Centers this proven fighting system. The FBI became interested and after seeing a demonstration, twenty-two people were sent back to Israel to be instructed in this new martial art.
Graduates returned to the USA and established training centers in different areas throughout the country. More students went in 1984 and 1986 to Israel to also become instructors. 1985 saw Law Enforcement Agencies begin a training program. At this current time, the fighting technique is being taught in numerous police departments throughout the USA.
The core philosophy – The main philosophy behind this self-defense system is the neutralization of a threat, by an instantaneous offensive and defensive maneuver, and to emphasize aggression. The system is now used exclusively by the Special Forces of the Israel Defense, while other variations, which had very similar techniques are now used by intelligence and law enforcement organizations in several other countries around the world.
This specialized fighting system usually has no rules, but is taught with the idea of keeping the user safe and by using any means at your disposal to stop an aggressor, with both women and men usually having the same type of training.
Some organizations have different levels, ranks and belts like traditional other martial arts, but for most practitioners, there is no official uniform or any other special dress.
The general principles include preemptive attacking, attacks targeted at some of the vulnerable areas on the body, such as the jaw, eyes, groin and throat, as well as other places.
Using continued attacking to try to stop an opponent quickly, being aware of ways to escape, watching for any more attackers, looking for objects to help with the defense and being very aware of the surrounding area while defending oneself.
The training tries to cover realistic situations that can be encountered in combat, walking the street, and many other varied environments. Students are taught to ignore any distractions and training can occur outdoors using different restrictive situations and various surface areas.
Krav Maga also trains a student to be aware of what is happening in any surroundings and of a potential threat. The ultimate goal of any martial is to avoid violence, but when it is unavoidable, it must be dealt with brutally and decisively.