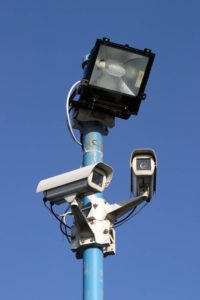 The Cooper Lighting MAC100W 110 degree 100 watt motion-sensing floodlight with security camera and microphone is a quality light that is packed full of security-enhancing features. The sensor boasts a 110-degree angle with a 40-foot range. In addition, it features a microphone and camera that can be used to monitor what is happening in your protected area simply by viewing it on a screen.
The camera features a 60-degree radius and a 20-foot range and transmits in full color. It does this via wireless transmission, and the package includes everything you need to set it up. The wireless transmitter and receiver make installation much easier, since you won't have to run any excess wires, and the receiver hooks up to any color television.
The microphone will pick up sounds and transmit them as well; you will be able to see and hear anyone who comes within range of your light, giving you peace of mind.
The Cooper Lighting MAC100W 110 degree 100 watt motion-sensing floodlight with security camera and microphone has earned an average rating of 3.5 out of 5 stars in online rating systems. It boasts a number of security-enhancing features and provides them at a budget price. Many customers were overjoyed at how easy it was to install as well as with the security it provided in their home.
Out of all of the features that the Cooper MAC100W provides, most consumers have been extremely impressed with the function of the light and camera. Many users were amazed at how clear both the video and audio were and were extremely satisfied. They also liked that it hooks up to a TV and can even record to a digital video recorder (DVR). These great features have made many users much more comfortable with leaving their homes for extended periods of time.
Many users were also impressed with how fast this product installs. The light portion of the product installs in the same manner as most floodlights, but this product really shines with the TV system installation. By simply connecting the receiver to a television, customers have gained audio and visual access to the area protected by the light. In addition, the camera is mounted on the sensor bar, so it will always be pointing towards the movement that triggered the light.
The most common complaint made about the MAC100W pertains to the range of the transmitter and receiver. Most of the negative comments made about the audio and video were fixed by moving the receiver closer to the transmitter. While this downside didn't affect how the customers felt about the product itself, it did leave them wishing that it had a little better range. In addition, many were surprised by the amount of interference caused by other wireless devices in the home. One customer stated that his other wireless cameras and speakers mounted throughout the home interfered with the signal of his new MAC100W and that he had to move the receiver much closer to the light in order to alleviate this.
The other common complaint was that there is no recording option provided. While this was expressly stated in the advertising, many felt that even an SD card slot would suffice. The lack of a recording feature hasn't changed the way customers have felt about the product as a whole; many have just expressed the desire for some kind of recording option to be provided, even something small and simple – although many did also state that the ability to connect it to a DVR is a nice bonus. It was also noted that, while this doesn't make up for the lack of a provided recording device, the ability to have one that can record almost limitless amounts of data is a good option.
Pros:
• High quality audio and video
• Easy installation
• Intelligently mounted camera and light
• Multiple transmission channels
• Bright 100 watt bulb lights up recording area well
• Light and sensor can be aimed and pointed
• Modest price
Cons:
• Transmitter has low range
• Wireless devices can create interference
• No standard recording option
Recommendation
The Cooper Lighting MAC100W 110 degree 100 watt motion-sensing floodlight with security camera and microphone is great way to enhance the security of your home. It features full color video as well as audio transmission and installs quickly and easily. This light has seen application in many settings and areas and is highly recommended to those wishing to reduce the risk of intruders.