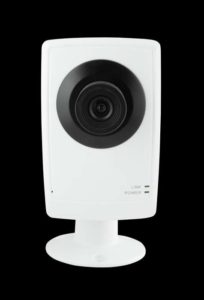 When choosing a home security system, the most important decision is whether to get a wired or wireless camera. Most often, homeowners opt for wireless security cameras, as they are easy to install and can be placed almost anywhere. However, not all wireless cameras are the same, so you'll want to check on the specifications of different models and find exactly what you're looking for. Here's a quick guide to what you want to look for when shopping for a wireless security camera.
Choosing the Right Type of Camera – Once you've settled on a wireless camera, you'll want to look at the different types offered. The familiar bullet and dome cameras are very popular, as they can be installed anywhere on the ceiling and left to do their job. Bullet cameras are the most recognizable security camera, so they can also be an ideal choice for outdoor surveillance as a deterrent to would-be thieves.
If you're trying to catch a suspected perpetrator, there are various types of hidden cameras, often disguised as smoke detectors or other common appliances. One final popular option is a motion-sensor camera. Some homeowners don't wish to have 24/7 surveillance of their home; a motion-sensor camera will start recording only when motion is detected.
Indoor vs. Outdoor – Another important factor is whether you want your camera to be watching the inside our outside of your home. Some homeowners make the mistake of purchasing the same models for both indoor and outdoor surveillance, but when installing cameras outside, make sure they are designed for outdoor use. Outdoor security cameras are waterproof, generally more durable and are designed to adapt to changing outdoor light conditions in the way that indoor models often are not.
For indoor surveillance, the most popular choices are fixed-angle bullet cameras or "eye-in-the-sky" type dome cameras. While both are usually ceiling-mounted, bullet cameras are best for constant, clear focus on one important area of the house, while dome cameras tend to give a wider field of vision and are the best choice when you need a view of an entire room.
Visual Specs Resolution – The quality of video that you'll want in wireless security camera depends on your home's needs. High-definition cameras tend to be more expensive, but if you can afford it, cameras with 720 or 1080p resolution are invaluable because of the clear images they provide. You also have the option of purchasing a camera that records in black and white or in color.
If your security system is intended for piece of mind or as a preventative measure, black and white can be fine. However, if you are seriously worried about theft, color footage might be the best choice, as the color of a perpetrator's clothing or hair is often a key feature when police are looking for them.
Finally, if your camera is focused outdoors or in a poorly-lit area, you'll want a model equipped with night vision. Many outdoor cameras come equipped with infrared vision, which works even in total darkness.
Night Vision – Although perfect night vision is not possible, most security cameras that are on the market today are capable of much more sophisticated night viewing than they were in the past. They achieve this through a combination of advanced lens technology and much more sophisticated lighting. For those that are planning to purchase, several manufacturers have added the night viewing capabilities to their marketing information, making it easy to compare cameras that have a 50 foot night vision range with those that have a 100 foot limit.
Remote viewing from your mobile Device – Many security systems give you the option of viewing anytime, or at least receiving sound, from your smartphone or tablet. If you're working all the time or take frequent vacations, this can be an invaluable feature, as it lets you watch your home even when you're away.
Overall, wireless security cameras are a solid choice for home or business owners wanting to protect their property by installing a security system. By making the right choices in terms of features and in terms of how you design and implement the system that you are creating, you may even be able to lower your overall property insurance costs. Click Here For The Top 5 Best Wireless Security Cameras.

https://en.wikipedia.org/wiki/Closed-circuit_television
https://en.wikipedia.org/wiki/Wireless_security_camera