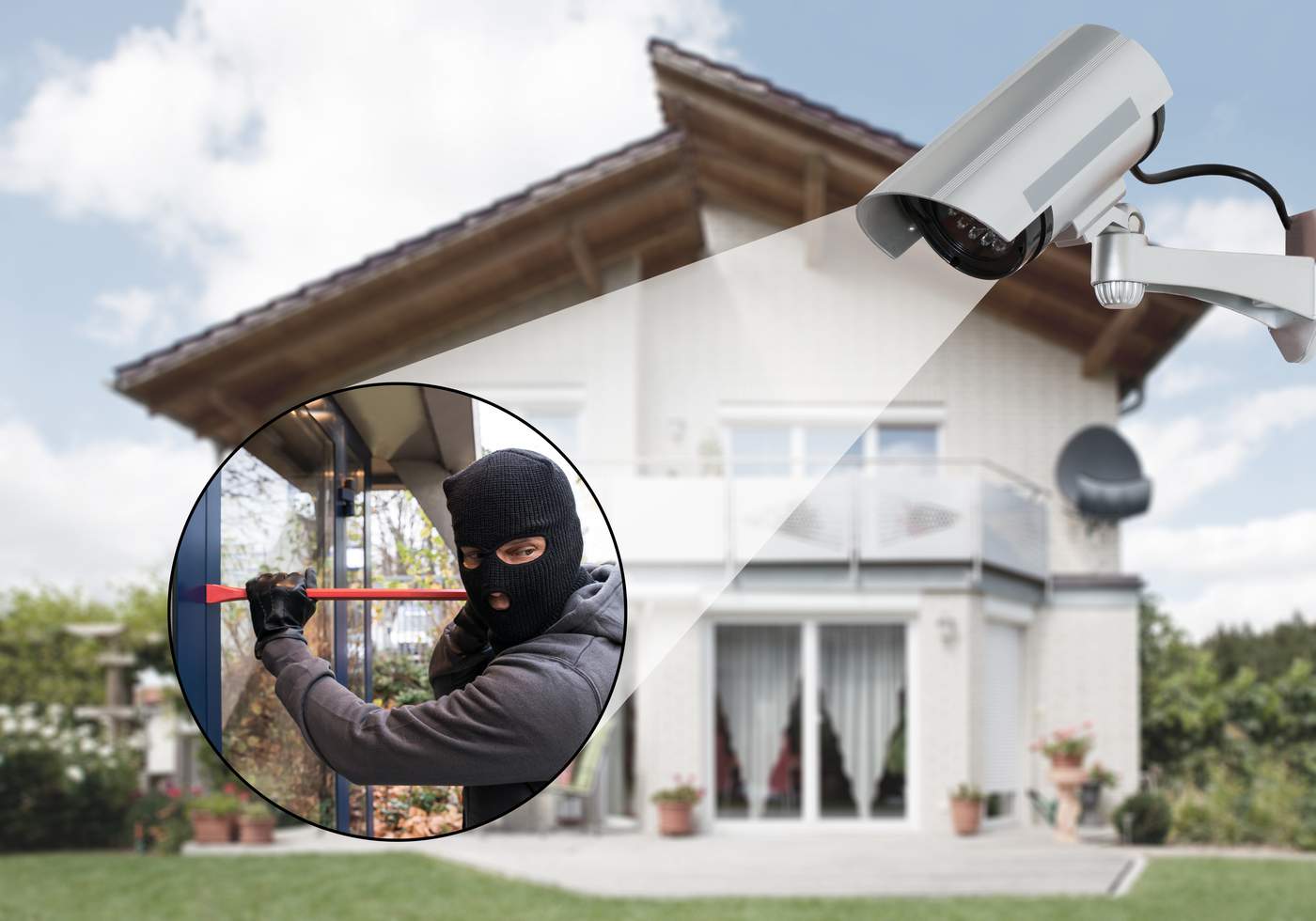 Outdoor security cameras are a large part– perhaps the biggest part– of any home security system. If you live in a city, whether it is within a good area or bad, it is imperative to secure your most valuable asset. Additionally, you may be surprised as to the areas in the United States with the most property crime.
What are Home Security Cameras – Home security cameras help monitor the premises of a private residence, whether connected wireless or through a DVR. Some options allow for one to rewind and review previous footage, while others only allow one to watch live footage. They can usually record either automatically upon sensing motion, or on demand.
Most cameras operate under CCTV (closed circuit television) technology, connecting to a DVR. The DVR is where programming options are made manifest. Network security cameras are an exception to this rule; the DVR capabilities are built directly into the camera. These advanced cameras usually have great resolution, but they also require more bandwidth memory to save and maintain the footage.
It is up to the owner of a residence to decide how many cameras to place, if any. Budgetary constraints can come into play, but one may end up losing more than their investment if they don't properly secure their residence with cameras. As with anything, you get what you pay for.
Types of Cameras
Wired cameras are one variety of security camera. They often need to be installed professionally, but have the downside of being visible to burglars because wires can be difficult to hide. They also can be wrecked by adverse outside conditions, such as weather. Benefits, however, include a clearer picture and more reliance when it comes to streaming.
Wireless cameras are ideal for outdoor installation. They typically run on batteries, and are easy to install or relocate, if so desired. They also provide versatility and are rather inconspicuous to the public.
Cameras also come in either black and white display or colored display. Black and white models may be less expensive, but a colored camera may be best to have simply because criminals often can be most easily identified by hair, eye, skin color, etc.
Wide-angle lens cameras are likewise more expensive, but can reduce the need for multiple cameras as they monitor a wider area. They often can rotate up to 104 degrees.
Other options for home security cameras include bullet cameras, dome cameras, discreet cameras (cameras that are inconspicuously stationed within an accoutrement, such as a clock or plant), infrared or night vision cameras, water resistant cameras, day/night cameras, and PTZ (pan, tilt, zoom) cameras.
Most Popular Brands
Swann, an Australian based company, is one of the more popular outdoor security camera
companies. Started in 1987, Swann is readily available at big chains like Home Depot, and smaller retailers alike. Swann cameras employ many technological features, including infrared light up to 65 feet in total darkness; extreme temperature tolerance (from 4 to 140 degrees Fahrenheit); CCD (charge-coupled device) sensors; and easy installation.
Lorex is an internationally renowned brand that offers more than 150 models. Its models usually feature zoom capability, anti-glare features, high-resolution video, and a day/night mode that switches to black and white video when there is low light.
Other popular brands include the do-it-yourself brand called Defender; VideoSecu; Bushnell, the leader in game and sports optics cams; Loftek, which offers both wired and wireless options; the well-known Swiss brand Logitech; the smartphone accessible brand zmodo; Uniden; the budget-conscious brand named Foscam; and innovative brand Agasio.
Conclusion
Before purchasing and placing cameras, do a holistic examination of your property. Look for areas that aren't blocked by trees or other objects, and that are open in nature. Additionally, keep in mind that different types of cameras will suit different parts of your house.
Technology has made it so one no longer has to guess who's there or put themselves in unnecessary danger. Security cameras aren't an answer to everything in terms of home security, but they can help tremendously. They are usually well-worth their price.