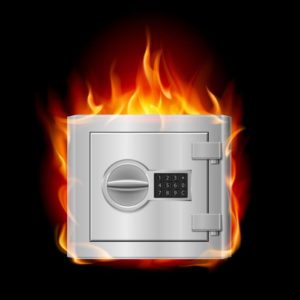 When you choose a safe, you are attempting to protect something of value from either theft or loss due to fire. Most models on the market will usually offer some protection from both threats, but depending on your situation you may opt to invest in a model that covers only one of these threats.
Most fire-proof safes are actually only fire resistant, just how resistant they are is determined by how long they can protect a flammable material like paper from burning. Without proper protection, paper documents will start to become charred and burn at temperature of around 400 degrees Fahrenheit; this is without the material coming into contact with the actual fire.
The goal of a fire-resistant safe is to maintain an interior temperature of less than 350 degrees Fahrenheit. What makes one model more expensive, or effective than another is how long it can maintain this critical internal temperature in relation to the exterior temperature. An example would be two fireproof safes that are able to maintain an internal temperature of 350 degrees, with an exterior temp of 1400 degrees. The first safe is only able to do this for a half an hour; the second can do it for over an hour and therefore, will be more expensive.
When comparing different models never take into account any claims by the manufacturer, always look for the independent ratings done by Underwriters Laboratories.
UL 150 media safes – There is a misconception that a fireproof safe will be able to protect anything placed inside from fire damage for the length of time it is rated for. The rating given for most fireproof safes is based on their ability to protect paper products only. In order to protect items like digital media, flash drives or memory cards, you need to look for a safe that has a more stringent UL 150 rating. While a temperature of 350 degrees will not burn paper products, it is more than enough to destroy a flash drive.
A UL 150 rating simply means that your safe can maintain an internal temperature of 150 degrees Fahrenheit, rather than the 350 that is common in most fireproof safes.
What about security ratings – If you only plan on storing financial documents and items of sentimental value, why bother getting a safe with a burglary rating, or going through the hassle of securing it to the floor.
When a burglar finds a safe in your home, they are automatically going to assume that there must be cash and jewelry stored inside. They will either attempt to open it there on scene, or if this proves too difficult, they will simply take the entire safe with them when they leave.
Just because your documents may have no value to a burglar, does not make them worthless. You need to take the same precautions that you would when securing money or jewelry.
Make sure that the safe you are considering has at least a minimum security rating, and that it is bolted to the floor, shelf or wall.
No one ever really plans on having a house fire, but they do happen. As a responsible home owner, you have an obligation to take proactive measures to protect yourself in the event the unthinkable ever happens. We buy home security systems to protect our homes, invest in a fireproof safe to protect the irreplaceable items within your home. Click Here For The Top 5 Best Fireproof Safe Models.