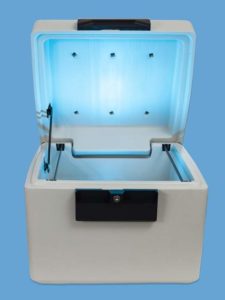 The SentrySafe 500 FIRE-SAFE, is a security rated chest built with one primary objective in mind: keeping your belongings safe from fire. It presents a great option if you are looking for something that will provide an additional level of safety, inside your home or office. The SentrySafe 500 is capable of protecting anything you hold dear or valuable, with items ranging from documents, jewelry, cash, to digital storage media and devices, such as DVDs, CDs, USB flash drives and hard disk/solid-state drives.
Spacious interior even allows you to store small weapons, such as handguns, and several magazines, as well. It's compact exterior and small weight make it highly portable.
If however you decide that you might want to secure it to a stationary object in your home in order to protect it from theft, you may be out of luck. This model offers owners no options as far as cabling it or bolting it down for extra security. If however you are more concerned with loosing your important documents to a fire, rather than theft, keep reading, because this may be the product for you.
The SentrySafe 500 is built by a company that has been around for 80 years, and it channels all those years of experience into construction of each safe box. Aside from being able to store your belongings, it is UL (Underwriters Laboratories) certified, boasting a classification of ½ hour proven protection in case of fire, as well being ETL (Electrical Testing Laboratories) verified, also featuring ½ hour fire protection, withstanding temperature of up to 1550 degrees Fahrenheit.
Equipped with a privacy key lock, and a set of two spare keys, it allows for easy access, and in case an owner happens to lose a key, they are also provided with an option of contacting the SentrySafe support team via their website or telephone, where a replacement copy can be arranged for registered owners.
Features and specifications:
UL classified 1/2 hour fire protection and ETL verified 1/2 hour fire protection for CD's, DVD's, USB drives and memory stick up to 1550ºF
Privacy key lock
Comes with 2 extra keys
Exterior dimensions: 6 1/8″H x 12 3/16W x 10 1/4″ D
Interior dimensions: 3 3/4″H x 9 23/32″W x 7 9/32″D
Weight: 12.6 pounds
Lifetime after-fire replacement guarantee from the manufacturer
The SentrySafe 500 was met with generally favorable reviews from customers, managing to average 4.2 stars out of 5 in online ratings system. Numerous users praised the safe box unit for its price and ease of use. They were also content with the unit's ability to protect their prized belongings, such as family photos, important documents, DVDs, CDs, memory sticks and other data storage devices, in case a fire breaks out.
However, they also made a valid observation that this box isn't waterproof, and therefore, it is primarily fit to carry the "privacy" designation, instead of "security" rating it currently has. Storage space was also praised, due to the fact that it's significantly larger than that of its competitors in the same price range. Since it only costs a small one time investment that is guaranteed to offer you protection for years to come, most customers found it to be a really good buy.
There were also some mixed and negative reviews of the The SentrySafe 500 FIRE-SAFE Box. Some reviewers had complaints about the build quality and the overly simplistic design. Bad reviews were mostly related to the plastic material the box is made of, and the lack of possibility for installation of a custom padlock. Some also deemed it too light, and subsequently, easy to steal, but that issue could be dealt with by securing it to a wall, or the floor. There were some reviews in which the owners expressed their doubts about the integrity of this model, again, because of its plastic outer shell.
Pros:
UL and ETL classified, with the ability to with stand ½ hour fire protection
The ability to protect sensitive items, such as DVDs, CDs, memory sticks, hard drives, photographs and documents
0.15 cubic feet ample storage space which allows for storage of small handguns and magazines
Additional keys
Lightweight and portable
Life-long replacement guarantee in case of fire
Cons:
Not waterproof
Easy to steal
Not possible to install an additional padlock
The Conclusion
Overall, after considering all the aspects, The SentrySafe 500 FIRE-SAFE Box is an affordable, simple way of protecting your precious belongings. Its ability to cope with 1550 degree fire hopefully won't be tested in real-life, but it's comforting to know your valuables are safe in case that happens.
Although some of its features presented somewhat a contradiction, like its weight, which allowed for outstanding portability, but also making it an easy target of theft. However, the economical aspect is not be neglected, as well, and The SentrySafe 500 FIRE-SAFE Box is a solution which is easy on your wallet, and the best part is, you only need to invest in it once, thanks to its lifetime guarantee.