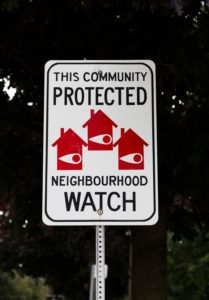 Research has shown that the crime rates in communities with an active neighborhood watch program are significantly lower than in those without one. The concept of the neighborhood watch is a time-tested way of ensuring the safety and security of not just your home and family, but of the entire community.
We may like to think of our homes as being a secure fortress protected by the latest in home security gadgetry. While home security systems are effective in preventing crimes, they are no match for an alert homeowner. To really safeguard your property, you could simply create three shifts and assign family members or friends willing to stand guard over your home.
This plan would work, except most of the people that I know, have this thing called a life. Trivial things like shopping, taking the kids to school, or just working for a living, may prevent them from babysitting my home. As for my kids, I can barely get them to take out the trash. A more practical solution would be to utilize a neighborhood watch program to first ensure that your community is as safe as possible, which in turn improves the effectiveness of any home security system you choose to install.
Though it may not be possible for you to find a friend willing to keep an eye on your property while you are at work, there has to be at least one neighbor that has an odd work schedule and can help keep an eye on things in the neighborhood.
Security in numbers – The reason we live in communities is because it is much safer than living in isolation. It is unfortunate just how many people do not even know their next-door neighbors' names, or if they do, they only have time for a quick passing greeting.
An effective neighborhood watch program is about building a sense of community. Everyone participates because they feel that they have a vested interest in the community and making sure it is as safe and secure as possible.
Having an alert homeowner watching the nearby homes and ready to call the police at any sign of suspicious activity will greatly increase the levels of security in that community.
With each additional person that participates in the watch program, more overlapping "areas of protection" are created, thus providing even greater security to the entire neighborhood.
Organizing your neighborhood watch – You can start by distributing flyers announcing a meeting to those who live on the streets adjacent to yours. Take this opportunity to hold a discussion about any recent crimes in the area and how they may have been prevented by having a neighborhood watch program.
The reason this strategy works is because of self-interest. Hearing about a crime that occurred in some other community is an abstract concept. When you discuss crimes that happened in your community, it now becomes a real threat that may affect your family.
While it will be impossible for you to convince everyone to join, you only need a few in order to create a successful watch program. In most areas, a single person can easily keep watch on up to a dozen nearby homes, but the more that join the better.
Working with local law enforcement – To ensure that your neighborhood watch program is as effective as possible, you will need some outside help, specifically your local sheriff's office or police department.
Whenever possible try to engage your local police department. Most people only think of the police after a crime has been committed. Most police officers, at least the good ones are in the business of crime prevention and can offer advice about the various aspects of organizing your watch program.
The local authorities are more experienced in the type of crime prevalent in your community, and can offer advice for implementing the home security measures that will prevent them. They will also be able to offer to advise with regards to the law, including your ability to make a citizens arrest, and under what circumstances.
Giving criminals a fair warning – Advertise the existence of your neighborhood watch through flyers and posters. This will help to deter potential criminals from even entering your community, at least the literate ones.
Just as a smart person will avoid a high-crime area because they are dangerous, a smart burglar will avoid areas that are considered safe. Let them know that you live in a safe neighborhood and intend to keep it that way. Creating a neighborhood watch program is not that time consuming nor do they require any money, but the benefits that can be derived from these programs are enormous.