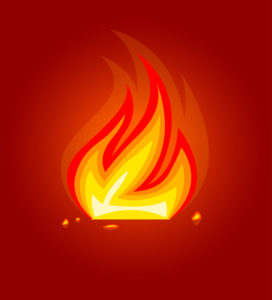 The National Fire Protection Association strongly recommends that every homeowner stores a fire escape ladder inside every room regularly used inside your home. Not all buildings come with a built-in fire escape, though. You can purchase individual ladders for use outside the window, however with a proper fire escape ladder on every floor above the first, your family can be properly protected against the dangers of fires in multistory dwellings.
A proper fire escape model can come in two different lengths designed for two- and three-story homes. These lightweight devices are small initially but extend up to about 15 feet and 25 feet, depending on the length of escape route you'd need. It's also important to pick a ladder that is both fast and easy to use; it should not deploy until you're ready to use them during an emergency.
Portable fire escape ladders start small to easily be attached to a second- or third-story window, putting attachment hooks onto the windowsill and unraveling the ladder afterwards. Because of the way these devices are made, it's also important to replace a ladder after you have used it once; it is possible to suffer injury or death attempting to repackage and reuse a disposable ladder.
The shorter of the two lengths, 15 feet, should be long enough to fulfill most two-story home needs. The longer of the two lengths, 25 feet, should be able to extend far enough for most three-story homes. Be sure the person you intend to use the fire escape ladder understands how to use it safely and quickly. Check the weight load, as well; a well-built ladder should be able to withstand over 1,000 pounds.
Portable ladders are similar to boat ladders; they're made out of metal or come with a rigid plastic chain to serve as ladder rungs. Before it's time to use them, these devices are meant to be kept over the windowsill, dropping the rest of it over the windowsill such that it hangs in wait. The devices may seem awkward aesthetically, but they're more likely to save your life than free falling.
Once you've purchased a fire escape ladder, be sure that it will fit within the specific window you intend to install it. If you're looking to install this inside a child's bedroom, have the child practice placing the ladder on the window and have them practice climbing out of a main story window.
This should be made part of a family fire drill. All homes should have fire drills and escape plans; everyone in the household should be a part of this process. This is a safety measure that should be undertaken once you've purchased fire escape ladders. Be sure to consider anyone who might have special needs, such as the elderly or dependent children.
To establish a plan, draw a simple floor plan of your home, marking all exits that family members can take from their respective rooms; ideally, each room has at least two different exit points, but this is not always possible. If one of these points is a window, check if it can be opened and whether the family member can reach the ground without injury. Include the nearest telephone outside the home and where the family should meet up after escaping the home.
Learn the plan by having a family fire drill, starting with all family members in their respective bedrooms with the door shut. Push the smoke detector button so that the alarm sounds. Remember to check your door for heat prior to opening it, and then make your way to the nearest exit all the way to the meeting place. Scrutinize your drill and make any necessary changes on a yearly basis. Click Here For The Top 5 Best Fire Escape Ladder Models,

https://en.wikipedia.org/wiki/Fire_safety
https://en.wikipedia.org/wiki/Fire_escape#Residential