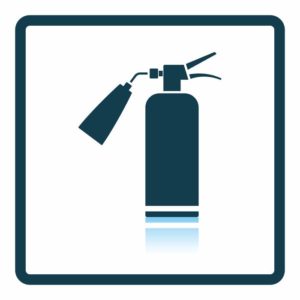 The National Fire Protection Administration estimates that there were 1.2 million fires in 2013 that resulted in almost 12 billion dollars in direct properly loss. Home fires caused almost 3,000 civilian fire deaths. These alarming statistics highlight why it is important for every homeowner to have fire extinguishers in the home. Click Here For The Best Selling Fire Extinguishers.
Why Every Homeowner Needs a Fire Extinguisher – According to the Federal Emergency Management Agency (FEMA), an unexpected fire occurs every 10 seconds in the United States. Smoke and carbon monoxide detectors are only the first step of home fire protection. A fire extinguisher is an expensive piece of safety equipment that could save your home and life.
What are the different classes of fire extinguishers? – Fire extinguishers are a critical fire protection tool used to control or extinguish small fires. Residential fire extinguishers, all of which use dry chemicals, are broken into three classes: A, B and C. Class A extinguishers are for normal combustible materials such as paper or wood. Class B extinguishers are used for flammable liquids such as gas or oil. Class C extinguishers are used for fires involving electrical equipment.

The fourth class is a combined ABC fire extinguisher. There are two additional classes (D for chemical fires and K for restaurant cooking fires) but the average homeowner will not need these. Keep in mind that there are water extinguishers, which used air pressurized water, to extinguish class A fires (not meant for grease fires).
Which fire extinguisher class is the best? – The most popular residential extinguishers are either BC or ABC. The best choice for the average homeowner is an ABC extinguisher. This is because ABC extinguishers use ammonium phosphate, which effectively works on all three classes of fire. Keep in mind that BC fire extinguishers use carbon dioxide or sodium bicarbonate and therefore are most effective on only B and C fires. The only caveat about using an ABC extinguishers is that they leave behind a yellow residual powder that can damage electronics if not cleaned up in a timely manner.
Monthly Maintenance – Every month inspect the nozzle, pin and tamper seal. Make sure there are no dents or leaks. Shake the extinguishers upside down to prevent the chemicals from settling at the bottom. Check that the gauge and verify that the needle is in the green zone.
P.A.S.S.
The American Red Cross provides a handy way to remember how to use fire extinguishers.
-Pull the pin on the fire extinguisher.
-Aim the extinguisher at the flame base.
-Squeeze the lever evenly and slowly.
-Sweep the nozzle from side-to-side.
Friendly Reminders
-Do not store anything in front of the extinguisher.
-The average extinguisher lasts between 5 to 10 years.
-Fire extinguishers are not meant for out of control fires or situations that endanger the user.
-Most fire extinguishers provide an effective range of 6 to 10 feet and only last about 10 seconds.
-Fire extinguishers need to be pressure tested every few years (depending on the type). Some fire departments offer this service free to the public.
-Do not throw away old extinguishers. Full extinguishers are considered a hazardous waste and can be recycled through the fire department or a recycling facility.
Conclusion
Every home should have at least one fire extinguisher. This critical safety equipment can make the difference between the loss of a home or life. Peace of mind and your family's safety can be secured through an inexpensive purchase of a fire extinguisher. Visit our product comparison chart and the reviews linked within to find the best model for your needs.