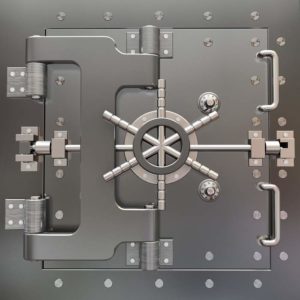 A door frame reinforcement kit is an essential part of any home invasion prevention plan. These kits make it harder for entry doors to be kicked in or pried open. While there are several different types of kits to consider from a variety of manufacturers, there are several important components that any good reinforcement kit should have.
How Door Frame Reinforcement Kits Prevent Home Invasions – The main reason burglars are able to enter homes is because door frames are made from soft wood.
The doors and locks are normally made to be sturdy but the frames are the real problem. In addition to the frames being soft enough to easily sustain damage, the screws used to mount the strike plate onto the frame are short enough that they do not reach past the frame. If the screws reached past the frame, they could attach to the sturdy structure of the wall instead of just soft wood. Almost all homes have entry door frames made from soft wood unless they were upgraded by the previous owner.
What Is A Door Frame Reinforcement Kit – Not all reinforcement kits are the same. However, they usually include at least two security essentials but may include more items. When the components of the kit are combined, the result is a door that withstands even the most forceful attempts to break in. These are some common kit components.
Metal Plates – Every kit comes with these long metal plates. They fit over the top of the existing strike plate to leave less room between the door and the door frame. In addition to this, the longer plates reinforce the frame so it will not come loose. Since plates eliminate the space between the frame and the door, they also make it harder for the lock and deadbolt to be broken.
Long Screws – Typical screws in a strike plate are very short. The screws that come with a door frame reinforcement kit are usually 48″ or 72″ in measurement. When burglars kick in a typical door, the strike plate usually comes loose because of the short screws being attached only in soft wood. However, long screws that go past the frame and into the wall hold the frame and plate in place.
Hinge Reinforcements – Since hinges are made from strong steel, they already have sufficient strength. However, the screws holding them in are usually short. The screws that come with reinforcement kits are several inches longer to help reinforce the hinges.
Lock Guards – Some kits come with these helpful accessories. When a door is kicked in, it may splinter around the lock area because of the lock's placement. A good way to prevent this is to install vertical lock guards that serve as braces on the door.
Door Shields – If a kit comes with these accessories, there are usually two of them. They are rectangular and go around the door itself in the knob and deadbolt areas. Knobs and deadbolts are then installed for added reinforcement on the door itself. These are good for doors that are not extremely sturdy.
Why Do I Need A Door Frame Reinforcement Kit – A robbery occurs every minute in the United States. Every 22 seconds, there is a violent crime happening. There are more than 6,000 home burglaries every day in the United States, and more than 70 percent of burglaries happen on residential properties. Although no homeowner wants to think about the possibility of a home invader using lethal force, it is important to remember that a murder happens every 31 minutes in America. For these reasons, it is essential to be prepared with door frame reinforcement kits and other home security essentials such as alarms, cameras and home defense weapons. Since doors are the first and most common mode of entry for burglars, it is important to secure all entry doors to prevent invasions.
How To Find The Best Door Frame Reinforcement Kits – When shopping for door frame reinforcement kits, look for plates that are made from rolled steel that is at least 14 gauge in thickness. The kits should have plate screws that are no shorter than 48″ in measurement. The kit should have at least the screws and plates but should include lock protectors to be optimal. It is best to buy from a company that offers a lifetime warranty and a satisfaction guarantee. When it comes to the safety of you, your family and your home, never settle for a lower price over higher quality.