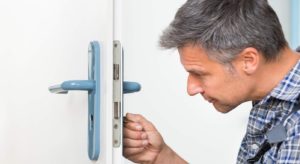 Think about home security, and the first thing that comes to your mind is the topic of door locks. Although some people living in small towns believe that they never need to lock their doors, the fact is that locks are necessities if you want to provide a safe home for your family. Besides the issue of privacy, locks help protect your property from thieves and unwanted intruders. Consequently, locking your door is the first step to ensuring that your home has a secure environment.
How to Know When to Replace a Lock
1. Change locks on all the doors when you buy an older home that was previously inhabited by other owners or renters. You do not know who has keys to the locks. Prevent an unexpected break-in by replacing all the locks.
2. If you value home security, you do not want a rusty or worn out lock on your door. Thieves find that less than perfect locks are easier to pick. If the key is still difficult to turn after you oil the area, you may need to replace the lock.
3. If an intruder breaks into your residence, you need to install a new lock. For one thing, the door and lock may have been inadvertently damaged from the sheer force caused by the intrusion.
The Efficiency of a Dead Bolt
Doors without dead bolts are open invitations to devious intruders. You can install double cylinder dead bolts requiring interior and exterior keys for opening the locks. However, a double cylinder dead bolt is not a good idea when you need to leave your home in a hurry. You can actually find yourself living in an authentic Gothic novel when you lock yourself inside your house.
Another thing you need to know about double cylinder dead bolts is that they are illegal in certain areas. The reason that authorities tend to frown on double cylinder dead bolts is based on sound reasoning. If a fire occurs, you may not have immediate access to open the door. Thus, the fire may trap you inside your own home. So, even though double cylinder dead bolts deter potential crimes from taking place, a single cylinder dead bolt may provide the best solution for complete security in all situations.
Go the Extra Mile and Select a Lockable Thumb turn Style Dead Bolt Lock
For extra security, choose a lockable thumb turn style dead bolt lock. Offering the best of both dead bolt lock worlds, this lock is a combination of the single cylinder and double cylinder mechanism. When you need to lock the door on the outside and inside, the thumb turn lock is a good choice. Unlike the double cylinder lock, the thumb turn lock has a built-in feature enabling it to remain unlocked when you are indoors.
Look for a Pick Resistant Lock Made with Durable Material
When you think about the most secure way to lock your door, consider the type of lock you purchase. You need to shop for a pick resistant lock featuring a mushroom pin or pick shield. A pick resistant, bump proof lock makes it more difficult for intruders to invade your private space or steal your valuable jewelry. The locking capability of a bump proof lock features an extra locking mechanism rendering it difficult to manipulate.
Look for locks that come with 3-inch screws and secure the door hinges with 3-inch screws. These screws go all the way through the wall studs. Consequently, the door is more secure from break-ins. Find a door lock that includes a hardened pin. Of course, durable material is a must. For instance, you can find affordable locks made with forged brass. In addition to the strength offered by forged brass, your home benefits from the attractive appearance and design.
A Few Words About Lock Grading
When you choose a lock, pick a Grade 1 commercial lock if you are aiming for longevity. A Grade 1 lock is able to go through 800,000 cycles before it stops working properly. Otherwise, a Grade 2 lock is sufficient for securing your residential doors. Another type of lock grading consists of grades ranging from AAA to C. A lock with an AAA rating is at the top of the list.
Installing a Door Lock
If you are handy around the house, you can remove and replace the door lock. However, you need to use the proper tools including a drill and a chisel. Plus, you must decide where to place the doorknob. If you feel the slightest bit of discomfort at the thought of drilling and installing a lock, call a locksmith to do the work. You can hire a good locksmith for a reasonable price.
Electronic Locks as Alternatives
If you do not want to use a key, you can always install an electronic lock featuring a keypad. With an electronic lock, you simply operate the lock by keying in your security code. You can also find an electronic lock offering remote accessibility via your smartphone.
Another benefit of using an electronic lock is that you only need one security code. Use the same code for every door in your home. Plus, you never need to worry about losing your key or whether someone is going to find the spare key you carefully placed under your doormat or potted plant.
Match the Lock According to your Preferences
As you can see, purchasing the right door locks for your doors is a personal choice based on a variety of factors. Choose the type of door lock that fits in with your way of life. Select a durable lock offering the optimum security features you require in order to have complete peace of mind. Remember that a door lock is not just a lock. A door lock keeps your family safe and makes you feel secure. Whether you buy dead bolts requiring keys or electronic locks is a personal choice. Lock your door with the best locks that meet with your budget and security expectations. Click Here For The Top 5 Best High Security Door Locks.

https://en.wikipedia.org/wiki/Dead_bolt
https://en.wikipedia.org/wiki/Door_security