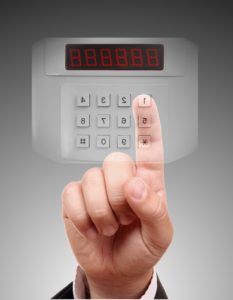 If you are considering purchasing a home security system you have undoubtedly come across the new wireless offerings that have flooded the market in recent years. There is a lot of misinformation being spread by those in the industry hoping to cash in on the current popularity of these devices. You will often hear product vendors make mention of the increased protection offered by a wireless home security system, or the many weaknesses inherent in traditional hardwired alarm systems.
The truth of the matter is that a wireless home security system is comprised of the same core components as the hardwired, and comes with its own unique set of strengths and weaknesses.
The goal of this article is not to join in the chorus singing the praises of wireless security, but rather to present an objective review of the many strengths of this technology, and bring to your attention a few shortcomings that you need to be aware of before making a purchase.
The ease of installation – A selling point that is often brought up by those recommending wireless security systems to potential customers, is the lower cost and ease of installation. If you are looking for a home security system that does not cost a fortune, and can be installed without having to destroy your home, your search is over because a wireless system is definitely what you are looking for.
Time is money, especially when you are paying an alarm installer union wages to run the wiring necessary for your new home security system. Depending on the size of your home and the complexity of the system being installed, literally hundreds of feet of cabling will be needed in order to integrate the various components of your alarm system.
This requires that holes be drilled in your walls, floors and ceilings. It is an expensive labor intensive process, that is totally avoidable, when you opt for a wireless system.
The only time that a hardwired security system will ever be a better option for the average homeowner, is during new construction, or if you are planning a renovation project. In these situations, the walls in your home will be opened at some point, so the negative aspects of having to run wiring will be mitigated.
DIY home security – I like to think of myself as being fairly handy around the home. By handy, I mean that I know how to use a hammer, and have a good idea what a screwdriver looks like. As skilled as I am there is no way that I would ever consider installing a hardwired system by myself.
Hardwired alarm systems by their very nature demand that they be installed by a trained professional. Unless you happen to be a electrician by trade, or have some related experience, you should not even attempt it.
Wireless home security systems, on the other hand, offer the average homeowner the advantage of idiot-proof installation. I have personally installed an AAS-V600 security system in under three hours, using a few common tools that I already owned. Due to the design of these wireless systems, there are literally hundreds of similar models on the market that are just as easy to install.
Setup was a simple matter of locating a power source, choosing a secure location for the master control panel, and installing the alarm sensors in the appropriate locations throughout the home. The only tool that i did not own, and needed to purchase was a stud finder.
When installing system components like motion detectors, glass break detectors, or the main control panel, it is important that they be securely bolted to the framing behind the wall and not just the sheet rock. A stud finder will speed up the installation, and make your life a lot easier.
Flexible protection for your home – Imagine having to call a moving company every time decided to rearrange the furniture in your home. This is what occurs when you add additional components to a hardwired security system.
I can almost guarantee that the security system that meets your needs today will be inadequate a few years from now. Whether it is the size of your family, or the level of criminal activity in your neighborhood, nothing ever remains constant. Your security system has to be able to change, and adapt to your current needs.
This does not mean that hardwired systems cannot be upgraded or expanded, because they most definitely can, but it will cost you. If you one day decide that the garage needs to be alarmed, or that you need a motion detector on the second level of your home, you will not only be paying for the new part, but also for someone to install it.
A wireless alarm system gives you the ability to effortlessly integrate new components into your existing system. Whether it is adding extra motion detectors, or a video surveillance system, you have the ability to upgrade and expand your protection without the added expense of paying for professional installation.
A popular misconception about wireless alarms – A wireless alarm system has no cabling for a burglar to cut or tamper with; therefore, they offer much more protection than a hardwired home security system. This popular selling point is a half truth at best.
The truth is that most of the hardwired alarm systems currently on the market are configured so that if the wiring is cut or otherwise tampered with the system will automatically generate a trouble signal. While this not the same as an actual alarm activation it does notify the homeowner that there may be an issue that needs addressing.
Even though they lack any wiring for a burglar to tamper with, a wireless alarm system may be vulnerable to having its signal disrupted. Whether this occurs unintentionally due to interference from other electronic equipment using the same frequency, or it is done intentionally by a burglar attempting to jam the wireless signal, it is an issue that a potential buyer should be aware of.
Luckily, almost all wireless alarm systems utilize a feature that requires every component part to check in periodically with the control panel. This ensures that if for whatever reason the signal is compromised you will immediately be made aware of it.
The real benefit of going with wireless technology is not the increased security protection, but the fact that they are much easier to install, and you are afforded much more flexibility in the placement and location of the core security components.
Whether you go with a professional installed, and monitored wireless security system from a recognized brand like ADT, or you opt for a DIY kit that you can install by yourself, it will be a very wise investment that will vastly improve the safety of your home and those living there.