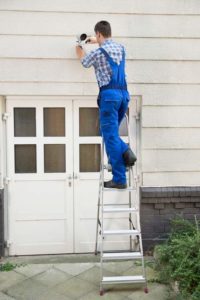 Do-it-yourself home security systems get more popular every year. Installing your own security system saves time and money. When DIY systems are properly installed, they are just as effective as systems installed by professional security companies.
With most DIY security systems, you will have to purchase your own equipment, and your purchase will come with everything you need to get the system in place. You might have to sign a service contract and/or pay monthly monitoring fees. If you shop around, you can usually find a company that doesn't require a contract. In many cases, you can also find a company that doesn't charge monthly monitoring fees. Some home security companies even offer free installation.
Although some homeowners may be intimidated by the idea of installing a residential security system, modern technology makes the installation process quick and easy. Of course, residential security companies can also install the system for you if you'd rather not do it yourself. However, most DIY home security systems are wireless, so the installation process basically involves placing sensors strategically throughout your home. If you do get stuck or have a question, most companies have a 24/7 customer service hotline where you can always get help.
Advantages Of DIY Home Security Systems – All residential security systems do basically the same thing: They scan for threats, identify threats and report threats to a monitoring service that dispatches help to your home. The biggest advantage of a DIY security installation is that it will cost you far less than a professionally-installed system. You'll also have more freedom to customize the system according to your needs. An additional advantage of DIY security systems is that if and when you move, you can take the system with you.
One advantage of professional installation is that security professionals will visit your property, assess the security needs of your home, make suggestions and recommendations, and then install the system and show you how to use it. A professional installation usually takes only a few hours.
Is A Hardwired Alarm Better Than A Wireless System? – The biggest advantages of wired systems is that they come with backup batteries in case there is a power outage. Wired systems are also less prone to electrical interference from other devices. However, they cost more than wireless systems, and they are not easy to install yourself unless you know exactly what you're doing.
With wireless systems, installation is a breeze. Sensors send signals to a central control panel, and all you have to do is place the sensors in strategic locations throughout your home. Wireless systems are a great way to secure your rental property because you can take the system with you when you move. DIY home security systems can be controlled remotely by computers, smart phones and tablets. The only real downside of a DIY system is that because wireless systems operate on batteries, you will have to make sure that the batteries in your system are always fully charged.
What's Involved In A DIY Home Alarm Installation? – Most people find DIY home alarm installation to be quick and easy. Simply follow the instructions for setup, and position the sensors and cameras wherever you want. This process takes only a few minutes. DIY residential security systems come with user-friendly software that makes it easy to manage your system after it has been installed.
Can I Get Extra Features For My DIY Home Security System? – Yes. DIY residential security systems offer you a variety of add-ons in addition to motion detectors. These features include indoor temperature detectors, cameras, window and door sensors, carbon monoxide detectors, flood detectors, door locks, timers, smoke detectors, medical monitoring and driveway/outdoor monitoring. You can even get a video monitoring system that will babysit your kids when they are home alone.
How Will My Home Be Protected? – Most people prefer to communicate with a monitoring service via their cell phones and to receive text and email alerts when a threat is detected. Security systems employ 24/7 monitoring, so every time an alarm is triggered, a siren goes off and the monitoring company is notified immediately. You will be contacted, and if you confirm the security breach or fail to answer the phone, the police, fire department or other applicable agency will be notified.
Do I Need Special Equipment Or Technical Skills? – Do-it-yourself residential security systems come with everything you need to have a fully-functional home safety system up and running within minutes. Most DIY home security companies provide 24/7 tech support so that if you need help with your system, a customer service agent will always be ready to help.
How Much Do Residential Security Systems Cost? – Home security systems used to cost hundreds of dollars for a hard-wired installation performed by a technician. These systems took hours to install and came with high monthly monitoring fees and long-term service contracts. These days, most residential security systems don't require a service contract, and with many monitoring companies, there is no monthly service charge. Click Here For The Top 5 Best Diy Home Security Systems.